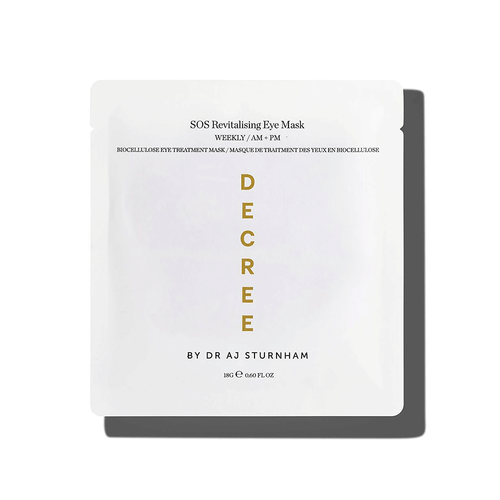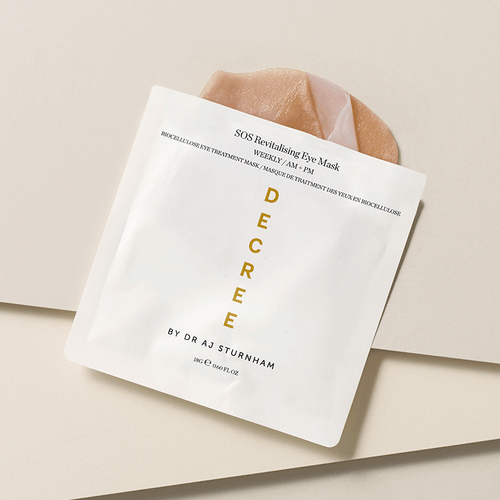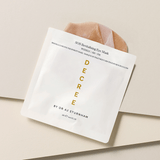 SOS Revitalising Eye Mask
Product Details
Designed for AM / PM use. Our SOS Revitalising Eye Mask instantly soothes the delicate eye area, with its unique design allowing treatment of the brow, lids and under eye area, for total eye rejuvenation. 
Perfect to prepare your skin before a big event or to aid eye recovery after a late night, poor night's sleep or whilst travelling. 
"I designed this mask after being inspired by my patients, who told me that they wished to have a better solution for rejuvenating the tired eye area". 
Dr. A J Sturnham
Enriched with moisture boosting Rosewater, Glycerin, Hyaluronic acid and Panthenol, the skin around the eye area is instantly plumped and hydrated. To support skin barrier function and to soothe and calm the skin, Squalane, Ceramides, Cholesterol and plant extracts work in synergy. Collagen boosting peptides act as signallers for new collagen formation, whilst the Caffeine and Niacinamide work to reduce dark circles and under eye fatigue.  
The biocellulose mask works as a clever delivery system for the active ingredients. Made from 100% coconut fibres, it is fully biodegradable. The recyclable rose blossom protective covering adds a touch of luxury and along with the potato starch outer packaging, this mask allows you to treat yourself without feeling guilty about the planet.

Available as a single mask or a pack of six. 
Rosa Damascena Flower Water, Glycerin, Butylene Glycol, Niacinamide, Sodium Hyaluronate, Hyaluronic Acid, Cyclomethicone, Squalene, Camellia Japonica Seed Oil, Camellia Sinensis Seed Oil, Glycine Soja (Soybean) Sterols, Ceramide NP, Silybum Marianum Extract, Camellia Sinensis Flower Extract, Taraxacum Coreanum Flower Extract, Leontopodium Alpinum Flower Extract, Paeonia Suffruticosa Flower Extract, Caffeine, Panthenol, Rosa Damascena Flower Oil Prunus Armeniaca (Apricot) Kernel Oil, Hydroxyethyl Acrylate/Sodium Acryloyldimethyl Taurate Copolymer, Caprylyl Glycol, Ethylhexylglycerin, 1,2-Hexanediol
Remove the sheet coverings and apply to cleansed, dry skin. Remove after a minimum of 15 minutes. Gently smooth any excess into the skin. Follow with your serum and moisturiser.
Rose Water 83%, conditioning
Niacinamide 4%, brightening
Sodium Hyaluronate & Hyaluronic Acid 0.02%, hydrating
Panthenol & Caffeine 0.2%, soothing, calming
Camellia Japonica, Sinensis, Ceramide, Cholesterol, Squalene Blend 0.1%, moisturising
Flower Complex Blend 0.98%, antioxidant